Finding ways to support and cheer each on other from afar is an ever more honed skill we're thankful to put into practice here at Cheeky. We know that distanced doesn't have to mean isolated and we're feeling grateful for the amazing support shown to us by our friends and colleagues over the last few months.
Giving Thanks
It goes without saying that giving thanks this year is going to involve some creative alternatives to the traditional gathering round the table to smother our woes in gravy and revel in each other's company. We're all being challenged to reimagine how we can still have some sense of togetherness at a time when it's simply not feasible for many of us to be sitting side by side, making merry while we pass the potatoes. Whenever we see that Cheeky has helped someone nail that classic cocktail or invent something totally new it literally brightens our day. For a small business like us, a little shout out can be an important reminder that we've got some amazing folks in our corner who believe in us. So we want to take a minute and show our gratitude by highlighting some of the incredible mixology accomplished by our community. 

Chelsea has a knack for great flavor combos and awesome photo-staging. If this drink sounds amazing to you, trust us, it tastes even better!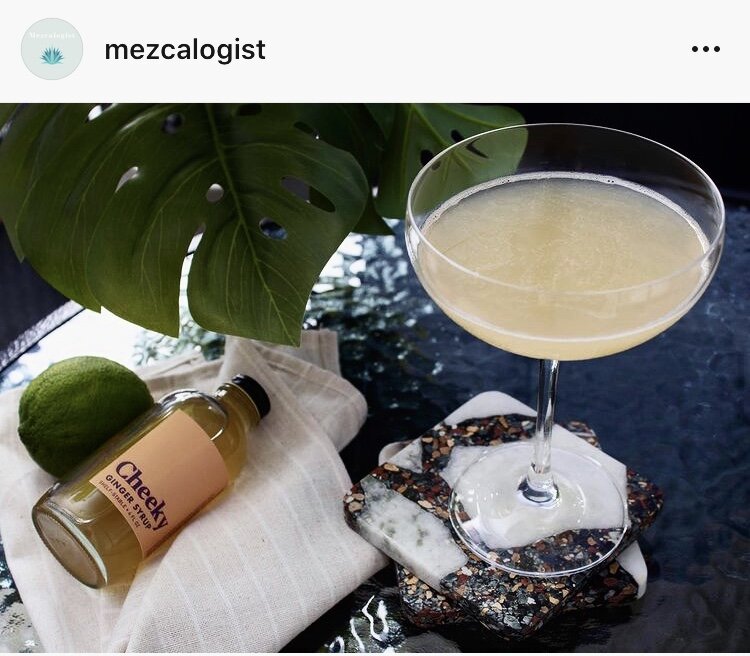 Recipe:
2 Rambutans (muddled)
1.5oz Mezcal
1oz Pineapple Juice
1oz Cheeky Lime Juice
.5oz Cheeky Ginger Syrup
Directions:
Shake and strain into a stemmed cocktail glass. 
A few muddled rambutans (similar to lychee) and a smokey dose of Mezcal totally popped with our Lime Juice and Ginger Syrup. 
Nolan's delicious twist to a classic Gimlet that becomes a fragrant breeze from last summer's garden with the addition of fresh basil leaves!
4. @ramithemixologist's 'It's Just a Bloody Figure of Speech, Chill'
Recipe (we're including Rami's ingredient tags to help you source your own if you're inspired to make this at home!):
1oz Blood Orange infused Moonshine @saintlunaspirits 
1oz Fig Liqueur @kleinerfeiglingusa
.5oz Cheeky Lime Juice
.5oz Cheeky Mint Syrup
Directions:
Shake, strain onto fresh ice and add tonic water. Garnish with a @roh.nyc dehydrated blood orange
Our friend Rami is a truly prolific cocktail maker and his garnish game is always super on point. We're constantly being inspired by his creations and flavor combinations so we're highlighting what we think of as a true ode to craft ingredients.
Follow these friends of ours on IG for a continuous flow of smart and tasty creations. Cheeky is wishing you all a healthy and happy Thanksgiving this year and as always, show us what you got! Tag @Cheekycocktails with your Turkey Tipples and Cranberry Sauce Sippers. 😆
Liked this Blog? Check out some of our other posts:
---